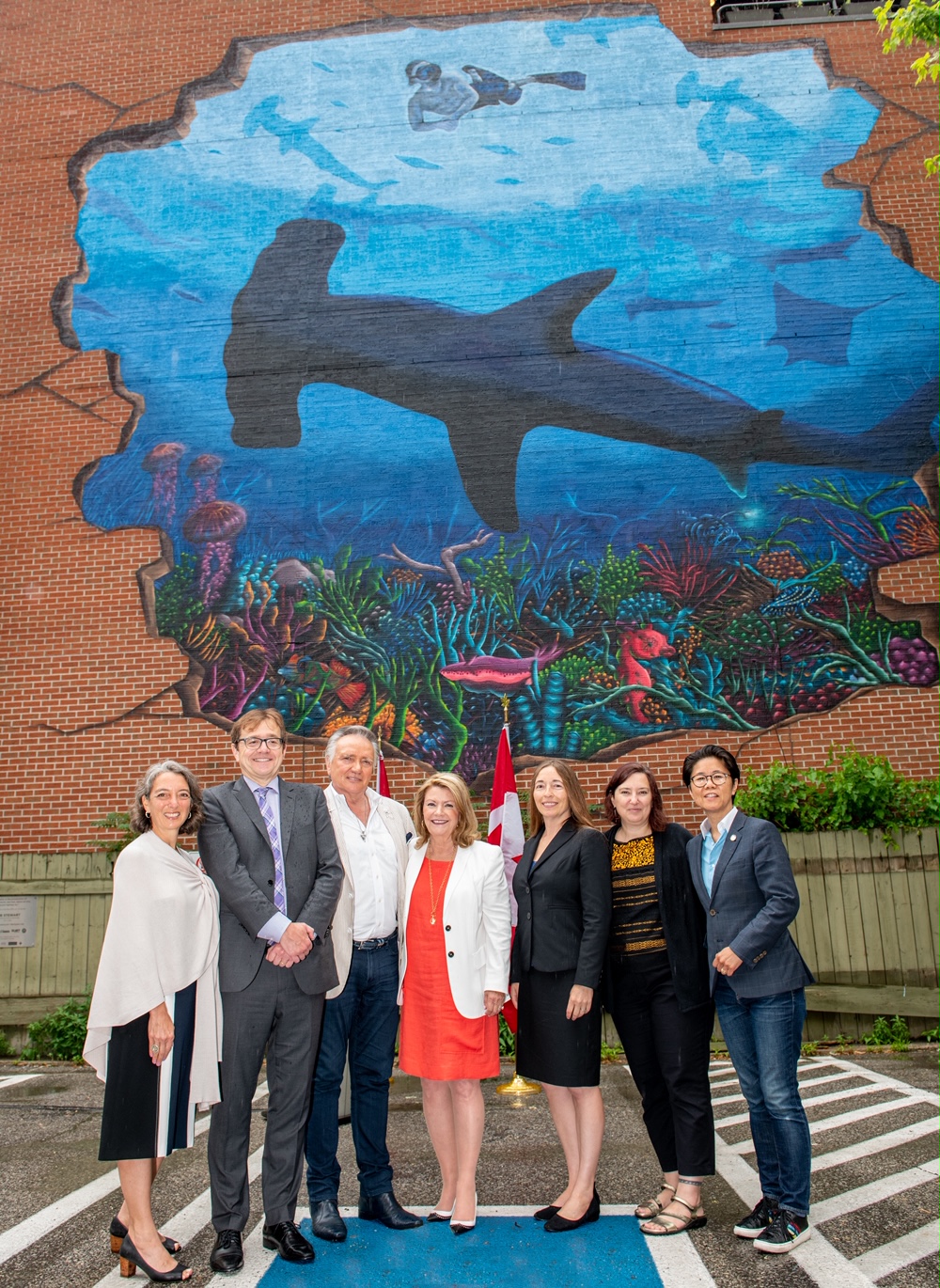 Pictured left to right: Julie Dabrusin – Member of Parliament for Toronto-Danforth, Jonathan Wilkinson – Minister of Fisheries, Oceans and the Canadian Coast Guard, Brian Stewart and Sandy Stewart, Rebecca Aldworth – Executive Director of Humane Society International, Kim Elmslie – Campaign Director at Oceana Canada and Kristyn Wong-Tam – Toronto City Councillor for Toronto-Centre.
Minister of Fisheries Jonathan Wilkinson announced the victorious news on Thursday, June 20, that Canada will ban the import and export of shark fins. The announcement took place in Toronto, in front of one of the many murals dedicated to award-winning filmmaker and activist Rob Stewart for his conservation efforts that inspired the legislation.
Rob brought the issue of shark finning to the world stage in his first film Sharkwater. He was in the midst of completing the sequel, titled Sharkwater Extinction, when he was lost in a tragic diving accident off the coast of Florida.
His parents and his Sharkwater team worked nonstop to complete his work, as well as his important mission to stop the shark fin trade.
Sharkwater Extinction had its world premiere at the 2018 Toronto International Film Festival and is now available on iTunes, and can be viewed on Crave TV in Canada and on Amazon Prime in the U.S. and many other countries around the world.
To celebrate the triumphant win, several Canadian politicians, humanitarian leaders, and locals, including Rob's parents Sandy and Brian Stewart, gathered for the news.
The ban passed in the Senate late Tuesday as part of Bill C-68, which changes the Fisheries Act. Canada has forbidden the practice of finning since 1994, but it did not have legislation to prohibit people from moving fins in and out of the country, which was allowing the slaughter of up to 100,000,000 sharks a year.
Click here to take action if you'd like to see a similar ban pass in the U.S. to protect sharks and our oceans. ~Emily Chavez