Rob Stewart Biography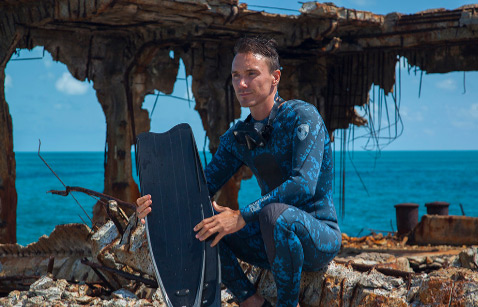 Born and raised in Toronto, Canada, Rob Stewart began photographing underwater when he was 13. By the age of 18, he became a scuba instructor and then moved on to earn a Bachelor of Science degree in Biology, studying in Ontario, Jamaica and Kenya.
Before making Sharkwater (2007), Stewart spent four years travelling the world as chief photographer for the Canadian Wildlife Federation's magazines. Leading expeditions to the most remote areas of the world, Stewart logged thousands of hours underwater using the latest in camera and rebreather technologies. Stewart's highly sought-after images have appeared in nearly every media form worldwide. 
While on assignment to photograph sharks in the Galapagos Islands, Stewart discovered illegal longlining, indiscriminately killing sharks within the marine reserve. He tried promoting awareness through print media, but when the public didn't respond, Stewart decided to make a film to bring people closer to sharks. At the age of 22 he left his career behind and embarked on a remarkable journey over four years and 12 countries, resulting in the epic Sharkwater.
Stewart was the first to bring the devastating issue of shark finning to the world stage. Today most countries have banned shark finning, and a shark research group credits him with saving 1/3 of the world's sharks.
Sharkwater was enormously successful, premiering at the Toronto International Film Festival and winning a "Canada's Top Ten" award. Sharkwater made history with the largest opening weekend of any Canadian documentary, and was the most award-winning documentary of the year, winning over 80 awards at prestigious film festivals around the world.
Stewart's hardcover book, Sharkwater: An Odyssey to Save the Planet, was released in October 2007 by Key Porter Books. His book Save the Humans was released in the Fall of 2012 by Random House.
Stewart worked tirelessly on conservation and environmental education, speaking at the University of Victoria, Yale University, Vancouver Aquarium, ROM, various TEDx events, and others. He served on the board of numerous conservation groups including WildAid, Shark Savers and the Shark Research Institute, and founded his own charity, United Conservationists, based in Los Angeles and Toronto.
Featured appearances on numerous high-profile TV shows included Larry King Live, The Today Show, Tonight Show, The Late Show, Nightline, Access Hollywood, Entertainment Tonight, ET Canada, Bloomberg, The Hour, BBC1, MTV and many others.
Stewart's second film, Revolution, again premiered at the Toronto Film Festival and was released worldwide in 2013. This groundbreaking documentary received both critical and audience acclaim and numerous international awards. Revolution was the first film to alert the world to the catastrophic effects of carbon emissions (burning fossil fuels; coal, oil, gas, deforestation). Climate change was well known, but not the resulting Ocean Acidification that would devastate the reefs, kill 25% of the fish populations, and potentially the oceans themselves. Today, this is well known.
Sharkwater and Revolution are still to this day the number 1 and 3 Canadian documentaries of the last 15 years. They have been awarded more than 200 international awards and viewed by over 130 million people.
In January, 2017, while shooting his third film, Sharkwater Extinction, Stewart tragically passed away during a dive off the Florida Keys. The US Coast Guard reported that the search for Stewart was the largest they had ever experienced. Thousands offered help. Richard Branson, Jimmy Buffet, Paul Watson and the Sea Shepherd sent help. Many sent planes, helicopters, and boats. 60,000 watched his funeral online. More than 1100 attended his funeral, before the church was filled to over capacity, with standing room only.
Awards in Stewart's name now include the Academy of Canadian Cinema with a 5-year $25,000/year award in his honour; Planet in Focus provides the annual Rob Stewart Youth Eco-Hero Award, and Oakville's bursary to a student studying marine biology at Dalhousie is now at $75,000. Film festivals, universities and conservation groups worldwide continue to honour Stewart with lifetime achievement awards.
Additionally, in December of 2018, a new species of shark was discovered and named for Rob —  Bythaelurus Stewarti.
The PangeaSeed Foundation, whose Sea Walls: Artists for Oceans murals around the world highlight some of the most pressing marine environmental issues of our time, launched the Dakuwaqa Project, dedicating murals to Stewart and highlighting his pioneering efforts in the realm of marine conservation. Murals by local artists have been created in Toronto, Miami, Los Angeles, New Zealand and Australia. In 2018, the Project pledged to install five more murals globally to ensure Rob's legacy continues to live and grow.
After his passing, Sharkwater Extinction was finished by a committed group of Stewart's family and colleagues and went on to screen at over 35 international film festivals around the world, receiving multiple awards and recognitions for Stewart's body of work, including at the prestigious Cannes Film Festival in May 2019.
Rob's footage from Sharkwater Extinction and work towards saving the oceans continues to impact efforts today. His work to led to the signing of the California Drift Net Ban in Fall of 2018, as well as legislation banning drift nets in Federal waters passed by the US House and Senate in February 2022. Mozambique banned commercial fishing of whale sharks, manta rays, or any mobula species in 2021. Both the U.S. Senate and House passed the Shark Fin Sales Elimination Act in February 2022. The bill has been included in the America COMPETES Act and is awaiting sign off. The UK announced their ban in 2021 and legislation is expected to be finalized in 2022. Colombian President Ivan Duque Marquez announced in February 2021 that shark fishing was banned in the country. Legislation is still inspired by Rob's documentaries and will continue to be.
Sharkwater, Revolution and Sharkwater Extinction have been awarded more than 200 international awards and viewed by over 130 million people.
David Suzuki
"A rare gift to the oceans and the world. There was no one like Rob and his loss is profound. He has inspired a whole generation of young people, many of whom will go on and amplify Rob's work. No movement should be utterly dependent on one or two individuals, but of course it takes one or two charismatic individuals to start a movement in the first place, and Rob was it." 
George Stroumboulopoulos
TV host and veteran broadcaster
"We should be thankful that in our little galaxy of stars that our life is and our friends are, that we had a sun like Rob at the centre of it. We lost a son, a brother, a mentor." 
Dr. Chris Harvey-Clark
Marine Veterinarian and Shark Biologist, Dalhousie University
"Rob and his work is in the curriculum of my course. I believe Rob did more for making shark conservation important than any scientist to date." 
Christopher Chin
Founder, Deeper Blue, COARE
"I have a new hero, and his name is Rob Stewart. Rob has forever changed the way people view sharks and the ocean, it will open their eyes…and, hopefully, their hearts." 
Leonardo DiCaprio
"Saddened by the passing of Rob Stewart. The world has lost a man who dedicated his life to protecting our oceans and sharks. He'll be missed." 
Dr. Boris Worm
Dalhousie University, on Rob's impact
"I have more students than I can count come to my office saying they want to study marine biology because they saw Sharkwater. 
Sir Richard Branson
A whole generation has been affected. "I don't think there's a film that's influenced me more than Sharkwater." Richard loved Sharkwater, and it caused him to launch the "Ocean Elders" to protect the oceans. He remains an ardent advocate and supporter of ocean conservation. After seeing Sharkwater and meeting Rob, Rob taught him to dive. 
HRH Princess Eugenie of York
"Rob is such a hero and inspiration." 
Jonathan Wilkinson
Minister of Fisheries, Oceans
"Thanks to the legacy of Rob Stewart and his Sharkwater Extinction film; his films have unquestionably inspired many to mobilize against shark finning around the world." 
Senator Michael L MacDonald
"Bill S-238 (Shark Fin Importation Ban) was inspired by Rob's work. His award winning documentary Sharkwater is largely responsible for shedding light on the detrimental effects shark finning is having on the species." 
Adrian Grenier
Actor, Founder Lonely Whale Foundation
"Rob Stewart was a dear friend, a protector of sharks and our ocean, a kind and gentle soul who worked tirelessly and faithfully for justice under the sea."