Rob Stewart Biography
Award-winning biologist, photographer, conservationist, author and filmmaker.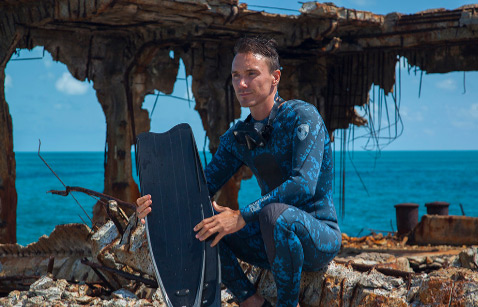 Born and raised in Toronto, Canada, Rob Stewart began photographing underwater when he was 13. By the age of 18, he became a scuba instructor and then moved on to earn a Bachelor of Science degree in Biology, studying in Ontario, Jamaica and Kenya. Before making Sharkwater (2007), Stewart spent four years travelling the world as chief photographer for the Canadian Wildlife Federation's magazines. Leading expeditions to the most remote areas of the world, Stewart logged thousands of hours underwater using the latest in camera and rebreather technologies. Stewart's highly sought-after images have appeared in nearly every media form worldwide.
While on assignment to photograph sharks in the Galapagos Islands, Stewart discovered illegal longlining, indiscriminately killing sharks within the marine reserve. He tried promoting awareness through print media, but when the public didn't respond, Stewart decided to make a film to bring people closer to sharks. At the age of 22 he left his career behind and embarked on a remarkable journey over four years and 12 countries, resulting in the epic Sharkwater.
Stewart was the first to bring the devasting issue of shark finning to the world stage. Today most countries have banned shark finning, and a shark research group credits him with saving 1/3 of the world's sharks.
Sharkwater was enormously successful, premiering at the Toronto International Film Festival and winning a "Canada's Top Ten" award. Sharkwater made history with the largest opening weekend of any Canadian documentary, and was the most award-winning documentary of the year, winning over 35 awards at prestigious film festivals around the world.
Stewart's hardcover book, Sharkwater: An Odyssey to Save the Planet, was released in October 2007 by Key Porter Books. His book Save the Humans was released in the Fall of 2012 by Random House.
Stewart worked tirelessly on conservation and environmental education, speaking at the University of Victoria, Yale University, Vancouver Aquarium, ROM, various TEDx events, and others. He served on the board of numerous conservation groups including WildAid, Shark Savers and the Shark Research Institute, and founded his own charity, United Conservationists, based in Los Angeles and Toronto.
Featured appearances on numerous high-profile TV shows included Larry King Live, The Today Show, Tonight Show, The Late Show, Nightline, Access Hollywood, Entertainment Tonight, ET Canada, Bloomberg, The Hour, BBC1, MTV and many others.
Stewart's second film, Revolution, again premiered at the Toronto Film Festival and was released worldwide in 2013. This groundbreaking documentary received both critical and audience acclaim and numerous international awards. Revolution was the first film to alert the world to the catastrophic effects of carbon emissions (burning fossil fuels; coal, oil, gas, deforestation). Climate change was well known, but not the resulting Ocean Acidification that would devastate the reefs, kill 25% of the fish populations, and potentially the oceans themselves. Today, this is well known.
Sharkwater and Revolution are still to this day the number 1 and 3 Canadian documentaries of the last 15 years. They have been awarded more than 70 international awards and viewed by over 125 million people.
In January, 2017, while shooting his third film, Sharkwater Extinction, Stewart tragically passed away during a dive off the Florida Keys. The US Coast Guard reported that the search for Stewart was the largest they had ever experienced. Thousands offered help. Richard Branson, Jimmy Buffet, Paul Watson and the Sea Shepherd sent help.  Many sent planes, helicopters, and boats. 60,000 watched his funeral online. More than 1100 attended his funeral, before the church was filled to over capacity, with standing room only.
Awards in Stewart's name now include the Academy of Canadian Cinema with a 5 year $25,000/year award in his honour; Planet in Focus provides the annual Rob Stewart Youth Eco-Hero Award, and Oakville's bursary to a student studying marine biology at Dalhousie is now at $65,000. Film festivals, universities and conservation groups worldwide continue to honour Stewart with lifetime achievement awards.
The PangeaSeed Foundation, whose Sea Walls: Artists for Oceans murals around the world highlight some of the most pressing marine environmental issues of our time, launched the Dakuwaqa Project, dedicating murals to Stewart and highlighting his pioneering efforts in the realm of marine conservation. Murals by local artists have been created in Toronto, Miami, Los Angeles, New Zealand and Australia. In 2018, the Project pledged to install 5 more murals globally to ensure Rob's legacy continues to live and grow.