Madison Stewart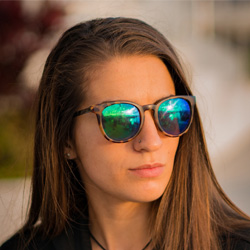 Madison Stewart, to her friends 'Pip' (dad's a pirate, mum's a hippy, so she became 'Pippy'). She has always grown up in the oceans, living on a yacht form the age of two and then growing up on the waters of Australia's Gold Coast. At 12 years of age Madison was a certified Open Water diver at Sundive in Byron Bay, and at age 14 she had picked up an underwater camera for the first time. Everyone has a special memory of wonder from their childhood, Madison's obsession quickly became the Great Barrier Reef. She left school to start home schooling at age 14 and in an agreement with her father she traded her school fees for an underwater video system, a simple tape camera in a housing. From that point on, the sharks, the Great Barrier Reef, andthe oceans worldwide became her normality, her classroom and her home.
Madison had no idea at the time that a change in her priorities was coming. She can pinpoint the moment of change to one single dive. Madison had entered the water on a night dive at the place she had had the closest encounter with sharks in the past. She saw one shark, too scared to come close to the boat. They were gone. This was her call to action, the most significant dive of her life.
The sole purpose of Madison's work all leads back to the one legal shark fishery inside the Great Barrier Reef that can legally harvest 100,000 sharks a year. This was her introduction into activism. Now, Madison works on documentaries and she tests shark for mercury around the world. She is a filmmaker, and is transforming a shark fishing village in Indonesia toward tourism. The most important career she can hope to be involved with is the protection of the planet, and our own future.