Carpet Sharks – Orectolobiformes
Orectolobiformes, also known as carpet sharks, are a diverse of sharks characterized for having two dorsal fins, five gill slits, and relatively short mouths. Several species have barbels and some have intricate carpet-like patterns, which give this order its nickname. Orectolobiformes range in size from just over 30 cm, like some species of @carpet shark, to the whale shark, the largest fish in the ocean, which can be up to 14 m long.
All Sharks In This Order: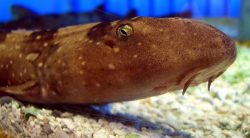 Family: Hemiscylliidae | Genus: Chiloscyllium | Species: Chiloscyllium plagiosum | CITES: Not Listed | IUCN: Near Threatened
Intro: The Whitespotted bambooshark is a tropical reef-associated shark that is native to the Indo-West Pacific and found in India, Maldives, Papua New Guinea, Japan and Indonesia. This species is in the same family as the Carpet and Bamboo shark… read more.
Family: Stegostomatidae | Genus: Stegostoma | CITES: Not Listed | IUCN: Endangered
Zebra Sharks prefer warm temperate waters and can be found on sand, rocky or coral reefs in 26°C – 29°C waters. They rest on the bottom at about 63 m below and will swim near the surface of the water… read more.
Do you have images or videos of Carpet Sharks – Orectolobiformes?
Submit them to info@sharkwater.com.